Basically Virtual Mirror Mode is useful because it allows you to work exclusively on one side of your mesh while viewing a virtual preview for the other side.
It is a nondestructive method of working, which I really like. It also allows you to snap the edges of polygons along the symmetry line using "mirror snapping", allowing for quick and easy changes to symmetrical models.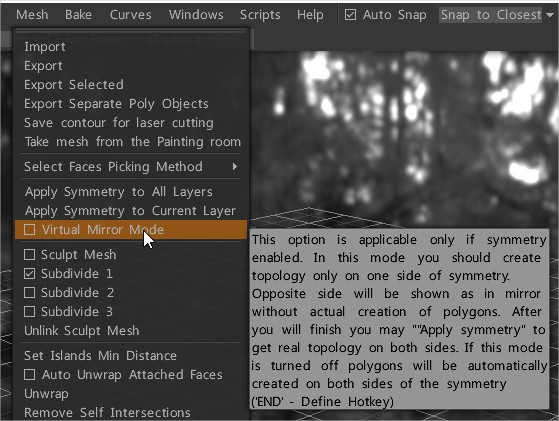 It doesn't work with the strokes tool. The workaround is to turn symmetry off temporarily and delete the unwanted faces it has created.
If Virtual Mirror Mode is unchecked then 3D-Coat will create REAL polygons on both sides of the symmetry plane (not virtual polygons).
This in turn makes "mirror snapping" inactive, so is better to turn "Virtual Mirror Mode" on, finish retopo work, and then select "Apply symmetry to the current layer" in the Retopo menu to get the real polygons on both sides of the symmetry plane.
In order to check that the polygons connected properly along the symmetry line, don't forget to then turn symmetry off. Otherwise the virtual polygons will hide the real polygons underneath.
The key concept behind VMM is that it creates VIRTUAL polygons.
Virtual mirror mode (VMM) on or off aren't all that much different from one another. It's really noticeable if working on the center edge loop though where both halves of a mesh weld together. If VMM is on and you move a vertex, snap doesn't work and what 3DC shows you is completely different from the actual reality.
The only drawback to working with VMM is that the mirror snapping creates a visual discrepancy between where you see the vertices connecting along the symmetry line, and where the vertices actually are. You can see the real location of your vertices by turning symmetry off, or you can also see them by hovering over them with the "Add/Split" tool, at which point they become highlighted, and you will see that often they are actually quite far away from the symmetry line.
The higher you turn up "mirror snapping", the worse this problem gets. Turning "mirror snapping" down to zero will therefore reveal the real location of your vertices. The thing to remember is that the "mirror snapping" is also virtual, and it only gets baked once you "apply symmetry to the current layer". Once you become clear on this concept, you get used to it, and working with VMM becomes wonderful!
A good approach is to complete your retopo on one side of your model with VMM on, then turn off symmetry and check to see if there are any stray polygons sitting on the opposite side of your mesh. If there are any over there, just delete them. The only way some polygons might show up over there is if you turned off VMM at some point while you were working (that's why you should just leave it on the whole time). Once that side is completely clear of polygons, then turn symmetry back on, and "apply symmetry to the current layer". This will give you both sides 100 percent identical.
If I am working on a mesh which already has polygons on both sides of the symmetry line, I always delete all of the polygons on one side in order to insure that I won't cause any problems once I turn VMM on.
Warning: "virtual mirror mode" being enabled will allow construction of geometry on the left half, but not mirror it on the right half, and show no result because it's showing the mirror of the lack of geometry on the right half.
Topology had a "correct" and "incorrect" side.
Select the right retopo layer first.