Help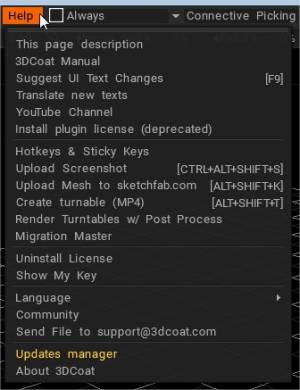 3DCoat Manual
YouTube Channel
Install plugin license

---
Hotkeys & Sticky Keys
Upload Screenshot
Upload Mesh to sketchfab.com: Upload your paint/voxel/retopo model model to sketchfab.com. In dependence on your current room the corresponding mesh will be uploaded.
Upload Turntable
Upload Turntable to YouTube
Upload Turntable to Vimeo
Render Turntables w/ Post Process
Migration Master: This wizard will help you copy Alphas, Strips, Smart Materials, Stencils, 3B files from previous installation of 3DCoat to current one. Help move assets they may have created or accumulated, from previous versions of 3DCoat to a new version.

---
Uninstall License: This option allows you to uninstall the license on this PC and install it on other. You can install 3DCoat on any number of PC's but you may not run it simultaneously on more than one PC at a time.
Show My Key: Show key installation license .

---
Language: Select your Language.
Community: Link to 3DCoat Forum
Send File to support@3d-coat.com: This video covers a new feature that allows the user to send a large (up to 1GB) problem file directly to support@3D-Coat.com, from within the application…as well as mentioning other support options.

Check for Updates: Check if your version is the latest.
About 3DCoat: Popup information about 3DCoat development team and community helpers.

Tutorials
Hotkey access to Brushes and Panels: This video demonstrates the ability to use hotkeys to bring panel's and pallets directly to your cursor and how to keep 3DCoat from switching to different brush packs when choosing a different brush or tool.