Near the control points, you will see the drop-down arrow that accompanies the drawn spline. Press it, and you'll be able to choose different options from an extensive menu of commands:
Apply: Apply spline action. You may use ENTER instead. With CTRL pressed, it will counteract.
Clear: Clear all control points.
Detach from surface: This command detaches any control point that is being attached to a surface (a control point becomes attached if you add it while the cursor is over the surface).
Space moves the shape in screen space. Attach points to the surface so that the spline will rotate together with the model.
Space moves the shape in screen space. Use this command if you pressed ESC after adding control points and then decided to continue. Press ESC to finish.
Edit points: This is a default mode after you've finished adding control points. Hover over a spline in the place where you want to add another control point (when you see a red point, press LMB to add it). Drag any control point with LMB. Use RMB over any control point to toggle vertex sharpness.
Transform all: Transform the whole spline with the manipulator (rotate, move, scale vertically, horizontally, proportionally).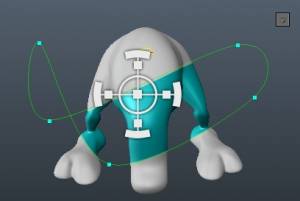 B-Splines: (highlighted). Use B-Splines by default. In this mode, the spline will be smoother and not path through the control points. Use it with vertex sharpness to get various forms.
Hide Helper Lines: Hide grey lines that connect control points.

Edit points table: Set numerical values of each control point. In this window, you can also set the type of each control point: sharp (makes a sharp corner at this point), B-spline (simple spline if unchecked).

Scale: Set the scale factor and press the "OK" button or ENTER.
Rotate: Set the angle of rotation and press the "OK" button or ENTER.
Flip horizontally: Flip the whole spline horizontally.
Flip vertically: Flip the whole spline vertically.
Save…: Save the spline to a file.
Load…: Load previously saved spline from a file.
Allows you to save and load curve profiles. This is a very powerful feature, as you can import EPS files, among other file types, with vector graphics to use as part of a Brush in the Paint or Sculpt Rooms. You can also save your curve profiles made in 3DCoat, reload them later or share them with others.
– The support files for saving are: EPS, Spline (3DCoat proprietary file)
– The supported files for loading are: EPS, Spline (3DCoat proprietary file), TGA, BMP, PNG, JPG, DDS, TIF/TIFF, EXR, HDR.
---
Apply Brush "Dabs" with Spacing: This causes the current Brush to especially respond to the "Dabs, Jitter, and Spacing" options found in the "Brush Options" Panel. Experimentation demonstrates this action best.