You can quickly create 3D models with the help of Kitbash tools.
Joints: a new tool added. It is a set of various parts that can be attached and linked with each other, like 'lego':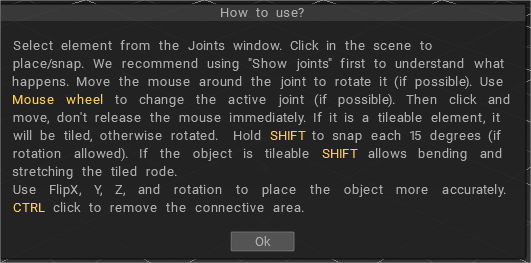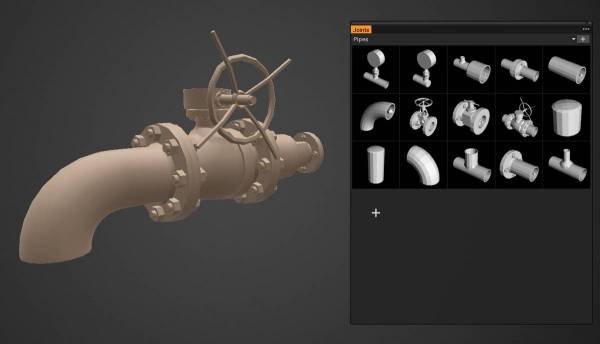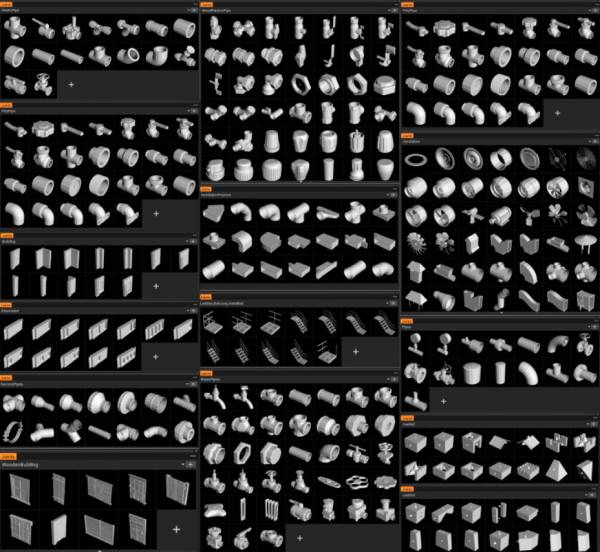 A new library of Splines added: Splines is a set of flexible objects that can be stretched with the Curves or Snake tool: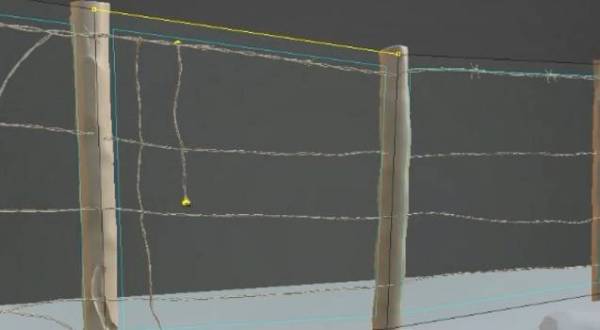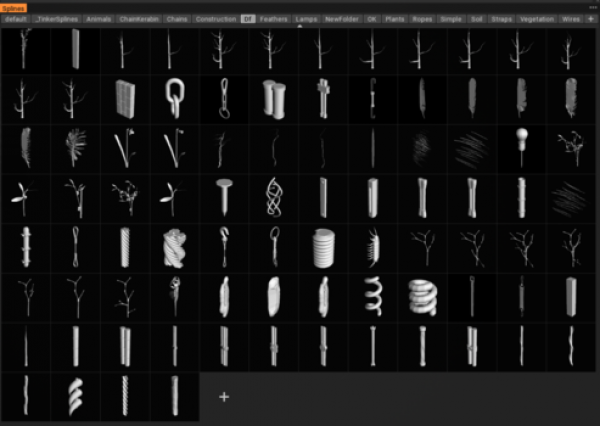 Joint Specifications
There are two ways to make elementary bricks for the Joints tool.
– Make joints in 3D-Coat. Read this document.

– Make joints in some external editors. Read the specifications.

Technical requirements for models with Joints
The model should be created taking into account the scale of the grid. For example, if it is a cube, then 10*10*10, a brick – 20*10*10.
The blocks could be larger. However, they should be made to apply neatly onto the grid of 10*10*10.
The vertical axis is Y. If the model is a tube, the diameter should be five if the tube's corner, any parameter taking into account the corner is applied to the tube of 5 in diameter.

You may add joints to the model right in 3DCoat. For this purpose, please make the model in the retopo room (sculpt and retopo or model in the retopo room from scratch).
Then go to Retopo room->Make joints and add as many joints as you need.
It looks like this:
Press Add joint to add a new joint. There are several options for each joint – axial symmetry, vertical/horizontal alignment, and compatibility with other joints.
Please fill in the name of the model and press Publish as soon as the model with joints is ready. The model will be placed in the Joints palette, and you will get to the Joints tool to test the model with joints. Pay attention that the model with the same name will be overwritten.
Model requirements.
The models are low-poly ones – up to 5К polygons per model. If there is a tube designed – 16 segments should be created.
A model could be a composite one. If there is a sub-object (retopo group) with the name of Shader_Gold, there will be created a volume named Shader_Gold, where the subobjects of this type will be gathered. That volume will be assigned a shader whose name fits best with the word Gold.
Examples of models with the joints put Here
The ready-made models should be placed Here
Left tool panel
Left Tool is very similar to other rooms, with a specific distribution of the necessary tools to do a quick kit-bashing with greebles.